Posté par Fabulafricana
I remenber a few years ago hearing about Sista Fa one of the first Senegalese female MC  working on a documentary to educate people about FGM.The film project is entitled "Saraba" & has been shown at various festivals around the world. Sista Fa was one of the very first female hip hop artist to be in the spotlight ,indeed back in the early 2000 .
She met her Austrian hubby in Dakar when he was conducting a documentary . Love happened and they moved to Berlin and now are parents to a daughter. What I like about Sister Fa's story is that she once she got in Berlin, she took advantages of the the opportunities in the Western world to refine her sound & put together a band. Her sound is a mix of hip hop, jazz, folk and african music. It's good to have artists like her who do scenes all over Europe,are proud of their roots ,open to other influences, and are representing our culture to people who may know just a lil bit. Sister Fa is also an activist, indeed she stands against FGM.Fa, herself was a victim of that ritual .
She travelled back to Senegal to film and sensibilize the minds of the youth back in her home village of Thionck Essyl in Casamance. I watched parts of the movie ,  her father shared how proud he was of his daughter for taking a stand. He also shares that back in the days he was powerless & he couldn't do anything to prevent it. She talks with little girls in schools who are aware of the medical & mental dangers that are tied to FGM, bref it's a great documentary. For her fight against FGM, Sista Fa was awarded the Freedom to create prize in Cape Tow . She was also the recipient  in Berlin of the Adler Enternship Award in 2012.www.sistafa.com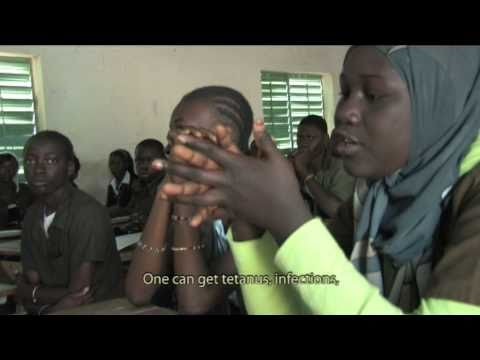 Yaye